WordPress
WordPress® has been used to create over 35% of all websites making it the most popular content management system on the internet. WordPress allows business owners and staff to directly update the website content and create blog posts without needing the technical skills. Additional plugins like Elementor make it even easier to create fantastic looking websites, set out exactly the way you want easily.
Get Started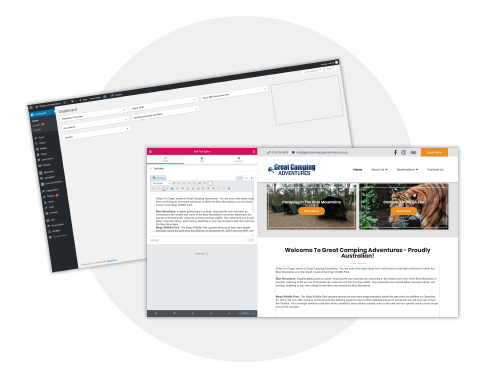 How can we help
WordPress Designers
Our experienced wordpress web design team create responsive designs which work on mobile devices, desktops and tablets. Providing your brand with it's own unique custom wordpress theme.
Its common for web design agency's to advertise themselves as wordpress developers, when in reality they use a pre-purchased theme and set it up to match your brand. This in it self isn't necessarily a problem, but it can lead to issues where they are unable to fur fill one of your requests. It can also lead to issues where if something goes wrong, they are unable to fix it. We at Amity IT always use our own themes when producing sites, this means we have a core understanding of how each site works and if something goes wrong we are able to fix it quickly.
This also allows us to be able to create anything that you can dream of(Assuming your budget accounts for it ;P)
WordPress Developers
Our developers create unique custom themes for every website we build, not rehashing a template and changing the logo. This gives each website we provide the layout options that best suit their individual needs, excluding what they don't, creating fast wordpress websites.
WordPress Hosting
We provide a range of web hosting solutions to suit any business, including shared hosting, vps and dedicated server options. Sites hosted with us are backed up daily, with multiple layers of redundancy. As well as whole separate layer of backups done by our provider. If the worst should happen, we will be able to recover your site to a working version.
Ongoing Maintenance and Support
Our web development team provide ongoing support for your website including installing wordpress updates and training in maintaining content. Don't have time to update yourself, no worries we can handle that too.
Learn More
WordPress Plugins
There are over 55,000 plugins available for download. There are a few outstanding plugins we commonly use and are worth a special mention
If you need something special we have experienced WordPress plugin developers which are able to completely new custom widgets and plugins.
Got Any Questions?
Does Elementor decrease your website speed?
Yes, it does like all plugins, but we try to minimise this by reducing dependencies by only loading parts in that we need. Often the benefit of a page editor outweigh the negatives of site speed, if you are looking for a superfast site we can work with you to provide a fast solution that doesn't rely on Elementor.
Do you keep our site to up to date?
No, by default we don't leave automatic updates on, we find this setting can provide an bad experience for users, you can go to sleep one night with your site functioning properly and then the next day it is broken. We provide an update server where we ensure your site doesn't break during an update.
Do you work with latest version of WordPress
We always work with the most recent version available, we also try to encourage a site owner gets there site up to date whenever we do work on their site.
Can you upgrade your existing WordPress site?
Of course, but because there are many different versions available and every site theme can be built differently, there is no hard rule about how much time and effort it would take. Contact us and we can provide an accurate quote to get your site up to date.